Are you searching for unique and entertaining toys that will keep your canine companion entertained and engaged? Look no further! Our Knit knacks Toy for Dogs are specially designed to provide endless fun and mental stimulation for your furry friend.
Crafted with care and innovation, our Knit knacks Toy is made from durable and pet-safe materials to ensure long-lasting play. From plush toys to interactive puzzles, we offer a wide variety of options to cater to different play styles and preferences.
Each toy is thoughtfully designed to engage your dog's senses and promote their natural instincts. Whether it's the squeaky sound that grabs their attention, the different textures that pique their curiosity, or the treat-dispensing features that challenge their problem-solving skills, our Knit knacks Toy offers a range of experiences to keep your dog entertained for hours.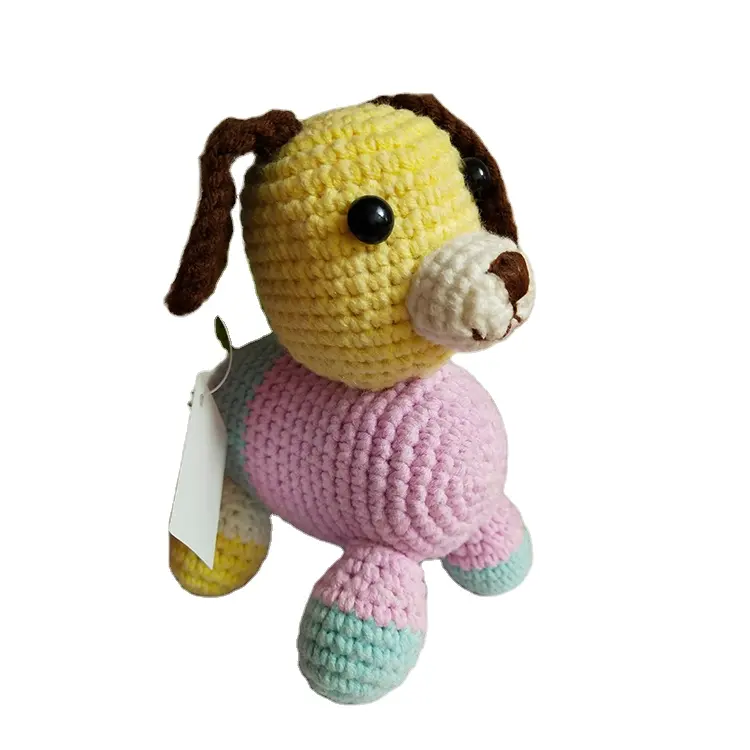 Features:
Knitted Construction: Our toys are handcrafted using high-quality knitted materials, creating a soft and textured surface that dogs love to chew on and interact with.
Squeakers and Rattles: Many of our Knit Knacks Toys are designed with built-in squeakers or rattles, adding an element of surprise and excitement during playtime.
Interactive Elements: Some of our toys include interactive features like ropes, crinkle materials, or hidden compartments. These elements stimulate your dog's curiosity and encourage interactive play and problem-solving.
Size Options: We offer a range of sizes to accommodate different breeds and sizes of dogs. Whether you have a small toy breed or a larger canine companion, you can find a Knit Knacks Toy that suits their needs.
Safe and Non-Toxic: We prioritize the safety of your pet. Our Knit Knacks Toys are made from pet-safe, non-toxic materials that are free from harmful chemicals. You can have peace of mind knowing that your dog can play with our toys without any health concerns.
Dental Health Benefits: Some of our Knit Knacks Toys are designed with textured surfaces that help massage your dog's gums and promote dental health. Chewing on these toys can help reduce plaque and tartar buildup, contributing to better oral hygiene.
Machine Washable: We understand that dog toys can get dirty after playtime. That's why our Knit Knacks Toys are machine washable, making it easy to keep them clean and fresh for your pup.
Durable and Long-Lasting: Our Knit Knacks Toys are made to withstand rough play and chewing. The knitted construction adds durability, ensuring that the toys can withstand your dog's enthusiasm.
Versatile Play: Whether it's fetching, chewing, or interactive play, our Knit Knacks Toys offer versatile ways to engage your dog and keep them entertained.
Weight: 0.5kg
Note: We can do the customization for you according to your designs or drawings or pictures.
How to order:
Click the botton "ADD TO QUOTE REQUEST LIST", our professional sale people will answer your all questions and send your official quotation.
Payment: we accept flexible payment, Cash, T/T, L/C, Paypal, Google pay, Apple pay, Credit card…, contact us for details.
Leading time: 3-7 days
Shipping methods: Express of DHL, FedEx, UPS, and ocean logistics
Shipping time: 7 dyas for express shipping, 25-28 days for ocean logistics
We are a large wholesaler, we can accept both large orders and small orders. Welcome all resquests from the world.
As a good professional wholesaler and supplier, we can deliver the products to your FBA warehouse without any mistake from China directly.
FAQs of products